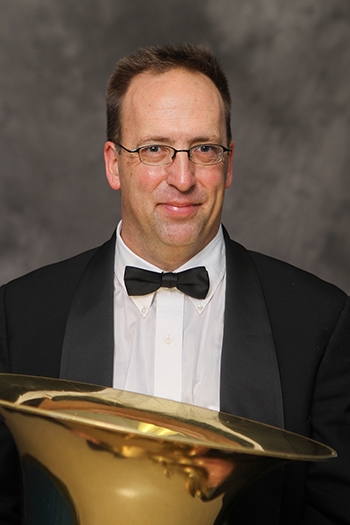 David Zerkel is Professor of Tuba and Euphonium at the University of Georgia, leading an active career as both a performer and educator. Before his arrival at UGA, he taught in a similar position at Illinois State University. His students have distinguished themselves by winning international and national competitions and attaining positions with professional performing organizations.
David has performed with many orchestras, to include the Philadelphia Orchestra, New York Philharmonic, Chicago Symphony Orchestra, Atlanta Symphony Orchestra, National Symphony Orchestra, Baltimore Symphony Orchestra and the Kennedy Center Opera House Orchestra. He is a member of the Brass Band of Battle Creek, was a founding member of the Washington Symphonic Brass and has performed with the Burning River Brass. He began his performing career as a member of the United States Army Field Band and The United States Army Band, both located in Washington, D.C.
David has performed as a featured soloist at many workshops and symposia, including the Leonard Falcone Festival, several International Tuba Euphonium Conferences, and the United States Army Band Tuba Conference. In addition, he has performed as a solo recitalist at many of the leading colleges and conservatories in the United States. His first solo CD, American Music for Tuba: Something Old, Something New, was selected as the recipient of the inaugural ITEA Roger Bobo Award for Excellence in Recording at the 2006 ITEC in Denver, Colorado. His subsequent CD, Tuba Helper, was a Bobo finalist in 2008.
David's students have enjoyed numerous musical and professional successes. Currently, each premiere military band in Washington DC has an alumni of the UGA Tuba Euphonium Studio among its' ranks. He has had multiple winners in the Leonard Falcone Competition, the solo competition of the International Tuba Euphonium Conference, and the national Music Teachers National Association solo competition. Alumni from the studio have performed with the Cleveland Orchestra, Chicago Symphony Orchestra and the New York Philharmonic. Many others are leading successful teaching careers at the secondary and post-secondary level.
David is a former President of the International Tuba Euphonium Association.