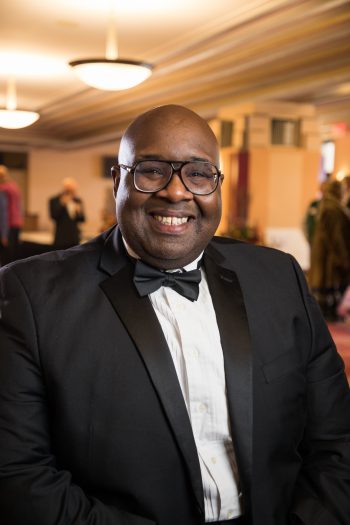 Website: www.demondrae.com
How Long with BBBC: 17 years
Home City: Tuscaloosa, Alabama
Countries Performed In: Canada, Hungary, Japan, Hong Kong, Germany, France, Taiwan, Macau, Norway, China, Italy, Austria, England, Wales, and throughout the United States.
Principal Instrument: Euphonium
Other Instruments: Baritone, trombone, Bass trumpet
Where you might have heard me perform: In any of the countries listed above or with the US Army Band, New York Philharmonic, Philadelphia Orchestra, Atlanta Symphony Orchestra, Temptations, Four Tops, or with the Sotto Voce Quartet.
What is special to me about the BBBC: The Brass Band of Battle Creek has enhanced my career in a way that I couldn't imagine. When I joined, I was only 26 years old and I was meeting, in some cases for the first time, some of the most iconic brass players in the world. Since then, I have become very close with the musicians while continuing to be a part of some of the most amazing concerts that I play each year.
What is special to me about Battle Creek: Battle Creek has proven to be an extremely welcoming community to me. As an African-American, that's something that I'm extra sensitive to as I travel across our country and the world. I frequent many of the local businesses and so many of the shopkeepers recognize me by face or by name, and as a southerner, I welcome a bit of snow at Christmas time!
Full Biography
Demondrae Thurman is considered one of the stars of the formidable generation of brass soloists. His euphonium playing has been described as "awe inspiring", and he is touted as "an amazing musician". Demondrae has a firm international reputation as a euphonium soloist having performed in Europe, Asia and throughout North America.  Many of America's premiere colleges and universities have hosted him as a performer and teacher and he continues to be in high demand. Over the last ten years, Demondrae has been an invited guest artist/clinician at many of the world's prestigious euphonium festivals including the International Tuba/Euphonium Conference, U.S. Army Band Tuba and Euphonium Conference and the Leonard Falcone Competition. His primary teachers are John Stevens, Michael Dunn, James Jenkins, and Daniel Drill.
Demondrae is also an active chamber musician. He plays first euphonium and trombone in the highly regarded Sotto Voce Quartet which tours extensively. The quartet has released three recordings on the Summit Records label; all of which have received stellar reviews. Viva Voce!: The Complete Quartets of John Stevens won the International Tuba/Euphonium Association award for best chamber music recording in 2006. The quartet has been featured several times on American Public Media's, Performance Today. In January 2014, released its fourth album entitled, Take This Hammer. He also plays first baritone horn in the Brass Band of Battle Creek, a British brass band comprised of many of the world's best brass and percussion performers. In addition to his chamber music work, Demondrae is in demand as a euphonium specialist for symphony orchestras including the Atlanta Symphony, Sarasota Orchestra, and North Carolina Symphony and the Philadelphia Orchestra.
In addition to the Sotto Voce Quartet recordings, Demondrae released his first solo recording on the Summit Records label in 2005 entitled, Soliloquies. It received a 9/9 out of 10/10 from classicstoday.com and he was referred to as "having earned (his) stripes as one of the premiere euphonium players in the world". Showing his dedication to new music, all of the music on the recording was written for him or with his playing in mind. His second album, Songs of a Wayfarer, was released in 2011. In February 2014, Demondrae will release his third recording entitled, Snapshots: The Spirit of Collaboration. Demondrae can also be heard on recordings with the Atlanta Symphony Orchestra, Brass Band of Battle Creek, and the New South Jazz Orchestra.
Currently, Demondrae is Associate Professor of Music at Samford University where he teaches low brass, conducts the Wind Ensemble, and serves as Director of Graduate Studies. In addition to his duties at Samford University, Demondrae is also on the faculty of the Miraphone Academy, Southeastern Tuba Euphonium Workshop and the National Music Festival Euphonium Workshop.
Demondrae Thurman is a Miraphone Performing Artist and plays exclusively the Miraphone 5050 Ambassador "Edition" euphonium which was designed specifically for him. He also plays the custom "Demondrae" model mouthpiece manufactured by Warburton Music Products and is a Shires Trombone Performing Artist.
For more information about Demondrae Thurman, please visit www.demondrae.com or www.facebook.com/demondraethurman