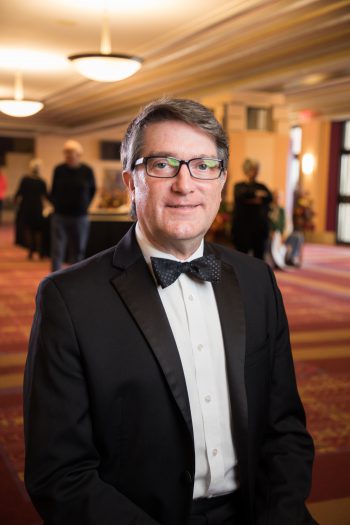 Trumpeter Scott Thornburg has performed as soloist and chamber musician around the world. Following undergraduate and graduate study at the University of Miami and The Juilliard School, Thornburg lived in New York City where he was principal trumpet with the New York City Symphony, the Summerfare Opera Orchestra, Philmarmonia Virtuosi, the Stamford Symphony, Musica Sacra, and the Hartford Symphony Orchestra. He performed at the Caramoor Festival as principal trumpet with the Orchestra of St. Luke's, and toured South America, Europe, and the U.S. with the Orpheus Chamber Orchestra.
As a chamber musician, Thornburg is a member of Spectrum Brass and the New York Trumpet Ensemble, and has performed with Summit Brass, Boston Brass, American Brass Quintet, Canadian Brass, Parnassus, and New York Brass. For four years he toured the U.S. and Canada for Columbia Artists with the trumpet and organ duo Toccatas and Flourishes. He has also appeared as soloist with the Vermont Mozart Festival Orchestra, Philharmonia Virtuosi, Orpheus Chamber Orchestra, St. Luke's Chamber Ensemble, Juilliard Symphony, Brass Band of Battle Creek, and most recently, on U.S., European, and South American tours with the New York Chamber Soloists. He has participated in performance and master class tours in France, Italy, Spain and Russia.
Thornburg's recording of twentieth century trumpet and piano music with pianist Silvia Roederer was released in 2003 on Centaur Records. He has also recorded as a member of Toccatas and Flourishes, a duo with organist Richard Morris, the Orpheus Chamber Orchestra, Orchestra of St. Luke's, Philharmonia Virtuosi, New York Trumpet Ensemble, Spectrum Brass, and the Western Brass Quintet. The latest Western Brass Quintet recording, "For Then and Now," will be released in the Spring of 2014.
Since the fall of 1989, Thornburg has lived in Kalamazoo, Michigan where he is a Professor at Western Michigan University as well as a member of the acclaimed Western Brass Quintet and the Kalamazoo Symphony Orchestra. In the summer he is a resident artist at the Bay View Music Festival in Bay View, Michigan.