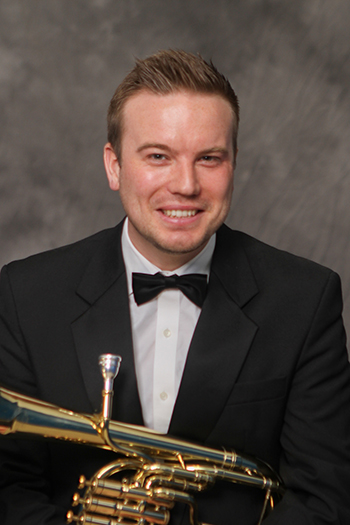 Martin Armstrong started his career at the age of 13 on cornet at the local Thornley Colliery Band. Two years later he switched instruments and bands to play the tenor horn for Peterlee town band and Ever Ready. His first solo horn position was at the Championship Fishburn Band where he spent two years under the guidance of conductor and tutor Ian Robinson. Martin took his foothold on the brass band worlds premiere stage after moving to Manchester to study at the Royal Northern College of Music

. Martin has held the Solo Horn Chair in the Black Dyke, Fodens and Grimethorpe Colliery Band winning every contest there is. Martin enjoys playing at high profile venues around the UK and places as far a field as Bermuda, Toronto, Australia, Spain, Italy, France, Denmark, Germany and Norway to name a few.
Martin has performed on numerous TV and radio shows, including memorable appearances on Dinner Ladies and Ground Force (Music Score) shows. He has worked with such artists as Peter Gabriel on the Jools Holland Show, featuring Moby, The Eels, Billy Brag, Craig David. Martin has also been the featured soloist many times on the BBC Radio show Listen to the Band. 

Performing in the Royal Albert Hall, Barbican and Symphony hall is an annual event for Martin, now taking on a free lance soloist role performing in and alongside other brass ensembles. 

Martin is also proud to be the Tenor Horn tutor on the National Youth Brass Band of Great Britain, working alongside the world famous conductor Bramwell Tovey. 

Martin is a Hanson clinician, playing on a customized MA1 Tenor Horn which he has played a major part in designing and developing.
Away from music Martin is an avid football (that's soccer to my US colleagues) and follows Sunderland AFC. During his 10 year residence at the BBBC Martin has become (maybe even forced at first Dr's Gray!) a keen MSU football fan keeping up-to-date with how the team is doing form the UK, Go Green!
A few of Martins favorite memories from over the years at the BBBC was performing alongside Maurice Murphy on the bands tour of Florida and also anytime one of the bands soloists unleashes their bag of tricks, especially Chris Jaudes, you've all been warned…