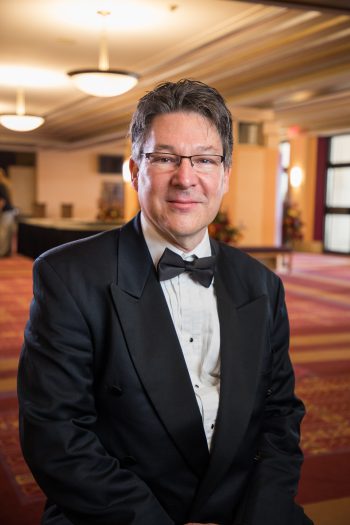 How Long with BBBC:  26 years
Principal Instrument:  Trombone
What is special to me about the BBBC:  The BBBC is a Fantasy Brass Spa. It's the Love Boat for Brass. It's the Harlem Globe Trotters playing at the local high school then joining the community for refreshments in the cafeteria. Everybody wins.
What is special to me about Battle Creek:  It's the home of the BBBC and America's breakfast table. 100% Wholesome!                                                       
Full Biography
Scott Hartman heads the trombone department at Yale University. Scott is a founding member of the Yale Brass Trio, the Millennium Brass, Proteus 7, Four of a Kind and he a longtime member of the Summit Brass. He began his chamber music career playing with the famed Empire Brass and has played with the Brass Band of Battle Creek for 25 years!
As a chamber musician and/or soloist, Scott has been a feature performer with many major United States symphony orchestras – including the Chicago Symphony, Boston Symphony, Philadelphia Symphony, Detroit Symphony, San Francisco Symphony, National Symphony and many more. Abroad, Mr. Hartman has been a soloist with orchestras such as the BBBC Orchestra, the New Japan Philharmonic, the Caracas Symphony, the Simone Bolivar Symphony, the National Symphony of Taiwan and the Korean Orchestra in Seoul, Korea.
Each summer, Mr. Hartman performs and coaches brass chamber music at the Norfolk Chamber Festival, the Chautauqua Music Festival and the Raphael Mendez Institute.
In addition to teaching and performing, Scott runs a publishing company for brass music, Firebird Editions, and has developed and produces his own line of Hartman mouthpieces. For more information, go to www.slushpump.com