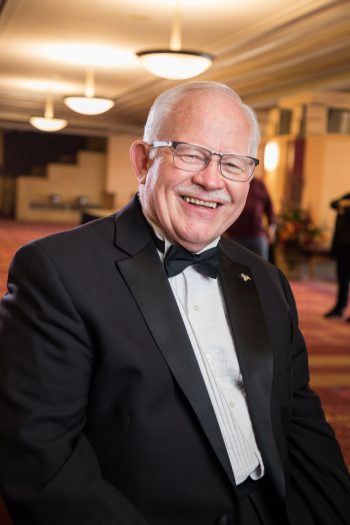 How Long with BBBC: Since the beginning
Home City:  Appleton, WI
Countries Performed In:
Austria, Bermuda, Brazil, Canada, Cayman Islands, Denmark, England, Finland, Germany, Greece, Ireland, Japan, Luxembourg, Norway, Sweden, Switzerland
Principal Instrument: Tuba
Other Instruments: Electric Bass Guitar
Where you might have heard me perform: With the U.S. Navy Band (Washington D.C.), with Millennium Brass Quintet, with Rodney Marsalis Philadelphia Big Brass, with Lawrence Brass, with the U.S. Army Band Blues, with the Fox Valley Symphony and soloing with numerous bands, brass bands, jazz ensembles, community bands and in 48 of the 50 United States.
What is special to me about the BBBC:  The camaraderie/friendship/regular concert "reunions." Having the privilege to play with world-class musicians sitting in every chair in the band and getting to play music at the highest level at every concert. I enjoy seeing our audience have a great time, whether it is hearing the band play the classics and standards, or big band, or pops numbers or accompanying guest artists. We have such a loyal, caring and supportive following and the reunion with our Battle Creek friends and it is such a pleasure to perform for such a warm audience. My wife and I consider BBBC supporter Tom Franke family as we have stayed with him for the past 20+ years and value his friendship and support. BBBC Founders Jim and Bill Gray and their families are dear to us, our relationship goes back over 30 years.
What is special to me about Battle Creek: This sounds cliché, but Battle Creek really does feel like our second home. I enjoy not only playing in WK Kellogg Auditorium for sold-out concerts, but seeing all of our regular patrons and visiting. In many cases, we have formed life-long friendships "outside of the music," and have seen young musicians bloom from early teens into young adults enjoying a career in music, or happy college lives as musicians and who were inspired by the BBBC. We have gotten to support a lot of local business ventures such as the "Art Walk" and more and have gotten to interact with local band directors and business professionals and can see their passion for making Battle Creek a special place to live, to raise kids and to provide inclusive opportunities. Love Battle Creek!!
Full Biography
Marty was principal/solo tubist with the United States Navy Band in Washington, D.C., where he served for twenty-six years. He has been the principal Eb Tubist with the Brass Band of Battle Creek for the past twenty years and is a founding member of Millennium Brass Quintet, The Symphonia tuba-euphonium ensemble, and the Tuba-Percussion duo Balance with percussionist Alison Shaw. He is currently principal tuba with the Fox Valley Symphony Orchestra.
Having served on the faculties of Penn State University and Eastern Michigan University, Mr. Erickson is in his thirteenth year as Instructor of Tuba, Euphonium and Chamber music at the Conservatory of Music at Lawrence University and performs with the Lawrence Brass faculty brass quintet.
Mr. Erickson has performed as a soloist/clinician throughout Western Europe, China, Japan, Scandinavia, United Kingdom, Bermuda, Cuba and in 48 of the 50 United States. He has performed with the Boston Pops Orchestra, the National Symphony and Annapolis Chamber Orchestras (with performances at Carnegie Hall and the J.F. Kennedy Center for the Performing Arts), the Baltimore Opera Orchestra, the Maryland Symphony, the Washington Masterworks Orchestra, and the Smithsonian Masterworks Jazz Orchestra under the direction of Gunther Schuller. He has also performed as soloist on concert and recital series programs with the United States Army Band, The U.S. Army Field Band, the U.S. Marine Band and the Army Garrison bands of Oulu and Helsinki, Finland. In April 2008, Mr. Erickson performed four concerts with the Chicago Symphony Orchestra, serving as "extra tuba" in performances of Symphony Fantastique. In March of 2013, Mr. Erickson performed a solo tuba recital in the Weill Recital Hall of Carnegie Hall in New York City.
He has been a featured jazz and classical performer at seven International Tuba-Euphonium Conventions, which included ITEC 2012 at the Brucknerhaus in Linz, Austria, and most recently at Indiana University in Bloomington, IN. He performed at the 2007 International Women's Brass conference at Illinois State University. In May 2015, Marty travels to Switzerland and Germany to perform as guest soloist with brass bands and as a recitalist. Additionally, he will make his Seventh appearance as guest jazz artist/teacher for the Deutsches TubaForum International Tuba and Euphonium Workshop at the Bayerische Musikakademie in Hammelburg.
Marty has released three solo jazz CDs; "My Very Good Friend" with pianist John Sheridan; "Smile," with Marvin Stamm and Frank Mantooth, and most recently "You and I" with trombonist Wycliffe Gordon and an all-star rhythm section. He has performed on over fifty recordings of orchestra, concert band, brass band, dixieland jazz, folk, and children's music. His most recent recordings include performances with the Millennium Brass Quintet, the Brass Band of Battle Creek, and the New Columbian Brass Band on the Dorian label, as well as Grammy-nominated recordings with the Symphonia Tuba-Euphonium Ensemble. As a tubist/bassist, Marty has worked with Joe Wilder, Grover Washington, Pete Christlieb, Sammy David Jr., Donny McCaslin, Phil Wilson, Hank Levy, Ray Charles, Louis Bellson, Pearl Bailey, and many more.
On July 1, 2015, Mr. Erickson will become President of the International Tuba-Euphonim Association, the first President two serve two terms. He is the Adjudicating Chairman for the Leonard Falcone International Euphonium and Tuba Festival LFIETF). As a founding member, Mr. Erickson has served 29 years on the Falcone Festival board.
Marty is a clinician/design consultant for the Willson tubas distributed by the Getzen Company in the US, and performs on the Willson 3400S Eb Tuba, the 3100S BBb Tubas and the Erickson Signature mouthpieces he helped to design.