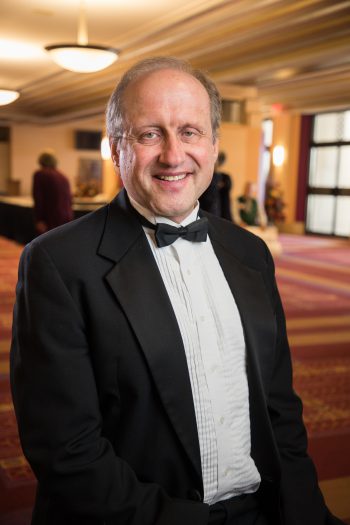 Website: www.music.msu.edu/faculty/profile/philip
How Long with BBBC: Since 1989, the final remaining original member!
Home City: East Lansing, Michigan
Countries Performed In: Japan, England, Canada, South Korea, Philippines, Malaysia, Singapore, Indonesia, China
Principal Instrument: Tuba
Where you might have heard me perform: All around Michigan, with ensembles such as the Detroit Symphony, Michigan Opera Theatre, Lansing Symphony, Detroit Chamber Winds, Beaumont Brass Quintet, and Grand Rapids Symphony
What is special to me about the BBBC: All of the incredible personal connections with the players, conductors, and staff; the opportunity to work with a great tuba section; the energy and flexibility of the band; and last but not least, Bill and Jim Gray!
What is special to me about Battle Creek:  The city has been so enthusiastic, supportive, and welcoming to the presence of the BBBC. There has been incredible corporate, community, and individual support for the activities and existence of a unique brass band, and it has been great to see the band grow and flourish for so many years.
Full Biography
Philip Sinder is professor of tuba and euphonium at the Michigan State University College of Music. His students are found in performance and teaching positions throughout the United States, and have won awards in numerous performance competitions.
He has performed with many leading ensembles, including the Detroit Symphony, Chicago Symphony, St. Louis Symphony, and Houston Symphony. He is a founding member of the Brass Band of Battle Creek and also performs frequently with the Lansing Symphony Orchestra and MSU's Beaumont Brass Quintet.
His solo tuba recording, "Aerodynamics," has received strong critical acclaim, and he has performed on more than 15 other ensemble recordings. He has also commissioned/premiered over a dozen works featuring tuba.
Sinder served as an associate editor for the "New Tuba Source Book" (2006), published by Indiana University Press. He currently serves as chairman for the Leonard Falcone International Euphonium and Tuba Festival, and since 2005 has been a Valade Teaching Fellow at the Interlochen Arts Camp in Michigan.
Sinder earned a Bachelor of Music Education degree and Performer's Certificate from the Eastman School of Music, and a Master of Music degree from Wichita State University.