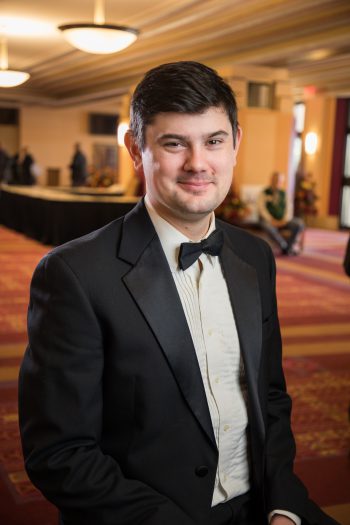 How Long with BBBC: Since 2018
Home City: Charlottesville, VA
Countries Performed In: Twelve (12): Austria, Canada, China, England, Finland, Italy, Japan, Netherlands, Slovakia, Spain, Switzerland, Thailand…and 39 US states.
Principal Instrument: Tuba
Other Instruments: Sousaphone
Where you might have heard me perform: Boston Brass
What is special to me about the BBBC: I was a camper at the band's Camp Avalon program in the early 2000's and being able to study with my brass idols was an incredible gift. Some fifteen years later I was asked to teach at the BBBC's Youth Brass Band Camp. Not only was I thrilled to give back the gift of music education, but now that I'm a member of the band I get to keep learning from these awesome musicians.
What is special to me about Battle Creek: I've always been impressed by the character and hospitality of Michiganders dating back to my first ever visit when my dad and I experienced a flat tire in the area. Sometimes we forget that a flat tire before the mobile phone era meant that you were really and truly stranded, but to our happy surprise half dozen people stopped to assist. Then, naive Southerners that we were, when we sent off two complete strangers with a wad of cash to get help, they came back promptly with the tools and the exact change, and then refused to take compensation for helping. Talk about making a lasting positive impression!