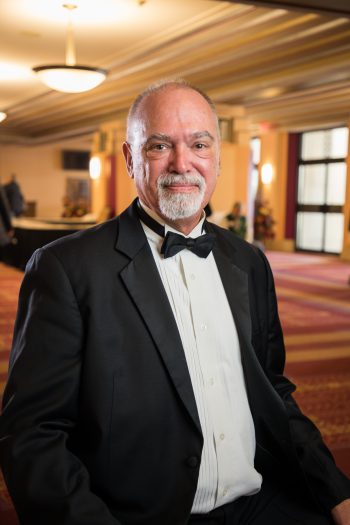 How Long with BBBC: Since 1993
Home City: St. Petersburg, Fl.
Countries Performed In: US, Germany, Austria, United Kingdom
Principal Instrument: Percussion/Timpani
Other Instruments: All percussion including drum set and Latin Percussion
Where you might have heard me perform: The Florida Orchestra, Bogus Pomp (a Frank Zappa cover band…) Detroit Symphony, London Symphony, various Broadway tours in the Tampa Bay area.
What is special to me about the BBBC: It's an opportunity to make really great music with really great musicians who are also friends.
What is special to me about Battle Creek: The winter concert is my annual reminder of why I like living in Florida…
Full Biography
Percussionist David Coash has been a member of The Florida Orchestra in Tampa, Florida since 1978. Dr. Coash received his doctorate of musical arts degree from the University of Michigan, School of Music, in 1999 and also holds a master's degree in performance from Northwestern University and degrees in music and music education from the University of South Florida in Tampa.
Dr. Coash is currently the principal percussionist with the Lake George Opera and is the co-founder and director of Spectrum Contemporary Ensemble. He is also a member of the Brass Band of Battle Creek, appearing with them at the Boosey and Hawkes National Brass Band Championships at the Royal Albert Hall in London, England in October 1998 and at the National Association of Brass Bands in America (NABBA) championships in Cincinnati in April 2002. He has performed with the London Symphony at the Florida International Festival (1999) and with the Detroit Symphony, including a tour to Carnegie Hall (1994), and in 2001 and 2002 he served as timpanist for the Eisenstadter Sommerakadamie in Eisenstadt, Austria. Dr. Coash has also performed at the Bowdoin Music Festival in Brunswick, Maine (1996) and at Music at Gretna, in Mt. Gretna, Pennsylvania (1995 and 1997) and at the Pine Mountain Music Festival (1997)
Dr. Coash has been a member of the faculty at Florida Southern College in Lakeland, Florida since 2005 and also at The University of Tampa in Tampa, Florida since 1983. He was also a member the faculty of Stetson University from 1999 to 2004.
In the fall of 2006, Dr. Coash was appointed music director and conductor of the Junior Philharmonic, part of the youth orchestra program at the Patel Conservatory at the Straz Center for the Performing Arts.
A frequent recitalist, Dr. Coash has performed numerous recitals and educational performances with Spectrum Contemporary Ensemble and has performed with the Michigan Chamber Players. Dr. Coash has performed at both the 2002 and 2003 Percussion Summit concerts in Naples, Florida and appeared as soloist in 2002.  As part of the 2001 Bonk Festival of New Music, Dr. Coash gave the world premiere performance of Campaign 2000 by composer Robert Constable and gave the U.S. premiere of Ziqquratu II by Lithuanian composer Sarunas Nakas. In 1992, in conjunction with Spectrum, he performed in recital at the Florida chapter of the Percussive Arts Society State convention. He has collaborated with the University of South Florida's Institute for Research in Arts and Technology in performing Smarter Than Dogs, a multi-media performance work, and in March of 1998, he was the soloist in a performance of Marimba Spiritual on The Florida Orchestra's On the Fringe music series. Dr. Coash has performed and presented master classes in orchestral percussion, marimba, timpani and contemporary music performance at major universities in Florida, Texas, Missouri and Michigan.
As an adjudicator, Dr. Coash has worked at both the district and state levels for the Florida Bandmasters Association since 1986. In 2002, he served as a panelist for the Solo and Ensemble Adjudication Clinic presented at the Florida Music Educators Association convention in Tampa, Florida. He presented a hand-drumming clinic for the Michigan Music Therapists State Convention in 1993, and in 1998, he was the music specialist for the Hillsborough County Arts Council's Emerging Artists Grant Panel. Dr. Coash served as president of the Florida chapter of the Percussive Arts Society from 1985 to 1988 and as the vice president of the society from 2002 to 2007. He hosted the chapter's State Day of Percussion in 1986, 1988 and 2003. In 1998, he was accepted into the Eta Lambda chapter of Pi Kappa Lambda.
Dr. Coash has appeared on several recordings for his work with The Florida Orchestra, The Brass Band of Battle Creek, Chuck Owen's Jazz Surge and Equilibrium. In 1996, he became a member of Bogus Pomp, an ensemble dedicated to the performance of the music of Frank Zappa, where he plays marimba, vibraphone and percussion. In addition to their many live performances throughout the Tampa Bay area, Bogus Pomp has performed in concert with the a cappella vocal group The Persuasions (2000) and with both The Florida Orchestra (1999 and 2000) and the Buffalo Philharmonic (2000) in all-Zappa concert performances. In addition, Bogus Pomp was invited to perform at the 16th annual Zappanale Festival in Bad Doberan, Germany in August of 2005. Bogus Pomp released its live CD, A Pungent, Steaming Affair, in June 2001.